Wisconsin Football: Badgers land first 2021 commitment from JP Benzschawel
Wisconsin Football has picked up its first commitment in the class of 2021, with legacy recruit JP Benzschawel giving his pledge to the Badgers on Friday.
Commitment No. 1 in the class of 2021 is in for Wisconsin, and it's a name Badgers fans should be very familiar with.
On Friday, Grafton (Grafton, WI) offensive tackle JP Benzschawel gave his commitment to Wisconsin immediately after receiving an offer from Paul Chryst and Joe Rudolph, who had been visiting him at his high school that day. Benzschawel, a massive 6'7, 265-pound sophomore, is the brother of former All-American guard Beau Benzschawel and sophomore tight end Luke Benzschawel. In addition, both his father and uncle also played football for the Badgers in the 1980's.
Benzschawel is currently unranked by the recruiting services, and Wisconsin is his first and only known offer to this point. However, this is not all that surprising given how early it is in the 2021 recruiting cycle.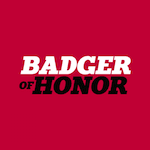 Want your voice heard? Join the Badger Of Honor team!
Write for us!
Benzschawel should have a bright future awaiting him once he finally arrives in Madison in a few years. Assuming the coaching staff keeps him on the offensive line, he's got the prototypical size for the tackle position to go along excellent agility and intriguing athleticism for a kid that big. In addition to the gridiron, Benzschawel is also a standout on Grafton's basketball team, averaging 10.6 points and 8.1 rebounds per game in the North Shore, one of the state's best conferences. Given those physical gifts alone, I would not be shocked to see him follow his brother's path and develop into a future pro on the line.
However, Benzschawel also possesses other ingredients that will lead to success in this program more often than not: a passion for Wisconsin and a dream to wear the Cardinal and White and make his state proud. Before he was offered by Chryst and Rudolph and subsequently committed on Friday, he apparently had no idea an offer was coming. Even though this outcome is not at all shocking given the position he plays and his family ties to the program, for him to commit on the spot like that so early in his recruitment speaks volumes about his desire to be a Badger.