Wisconsin Football: 5 Northwestern players Badger fans should know
After hammering Michigan, Wisconsin Football hosts struggling Northwestern Saturday. Who are the 5 Wildcats who Badger fans should keep the closest eye on?
Last year's Big Ten West champs have looked nothing of the sort through three games this season.
While the 3-0 Badgers have been lights out from the start of the season and currently rank as the No. 8 team in the nation after taking out Michigan, Northwestern sits at 1-2 and is coming off of an embarrassing 31-10 loss at home to Michigan State in which it managed just 2.8 yards per play on offense. The Wildcats have been disappointing from the jump, losing to a bad Stanford squad in ugly fashion in Week 1 and letting UNLV hang around for most of the game before pulling away late.
Based on how these two squads have played so far this season, this should be a contest Wisconsin wins with relative ease. However, as most Badger fans are painfully aware, Northwestern always seems to give Bucky fits whenever this matchup comes around. As a result, even though the Badgers have looked like a legitimate Big Ten title contender through three games and the Wildcats have…not, there's probably a strong chance we are in for another slugfest on Saturday.
That being said, coming into Camp Randall and defeating this Wisconsin team remains an extremely tall task for Pat Fitzgerald's program. If Northwestern has any hope of achieving what Michigan could not, it will need strong performances from these five players.
1. Hunter Johnson – Quarterback
2019 stats: 48.5 % passing, 308 yds, 1 TD, 4 INT
For Northwestern to get its season back on track, it needs Hunter Johnson to start looking more like the former 5-star signal-caller he once was coming out of high school. While the Wildcats were likely hoping he would be a star in Evanston after transferring from Clemson to escape Trevor Lawrence's shadow, right now, they would probably be just fine with even average play from him.
Johnson has struggled big-time through Northwestern's first three contests, and was playing so poorly last week against Michigan State that Fitzgerald pulled him out of the game and replaced him with his backup, Aidan Smith, in the third quarter. He finished the game with 15/26 passing for 88 yards and an interception.
That being said, with TJ Green out for the season, Johnson remains Northwestern's best option under center, and with a lack of other offensive playmakers, the Wildcats' hopes for resurrecting their season and knocking off Wisconsin ride on his shoulders. Unfortunately for them, Johnson happens to be running into an absolute buzzsaw in this Badger defense, which currently ranks No. 8 nationally in passing defense and No. 2 in total defense.
2. Isaiah Bowser – Running Back
2019 stats: 4.0 YPC, 93 yds, 0 TD
Much of what was said about Johnson applies in Bowser's case as well. If the Wildcats have a prayer of beating the Badgers, they will need a big day from him on the ground, especially considering how poor Northwestern's passing attack has been.
The sophomore back was probably Northwestern's best player on offense as a freshman last season, and it was relying on him to produce like that again in 2019. However, Bowser has struggled to make much of an impact thus far. A knee injury suffered against Stanford that kept him out of the Week 2 matchup against UNLV is partly to blame, and perhaps it was also part of the reason for his paltry 39 rushing yard (21 coming on one run) performance against the Spartans last week.
Redshirt freshman Drake Anderson has done a nice job so far picking up Bowser's slack, but the Wildcats really need their star ball carrier to show up this week against Wisconsin top-ranked rushing defense to pull the upset.
3. Bennett Skowronek – Wide Receiver
2019 stats: 12 rec, 141 yds (11.8 avg), 0 TD
For this Northwestern team to come into Camp Randall and put points on the board against this outstanding Wisconsin defense, the Wildcats are going to need a well-balanced attack to keep the Badgers from selling out to stop one specific facet of the offense. Bowser and Anderson will need to produce in the backfield, but Johnson will need to have much more success hooking up with his receivers than he has so far this season.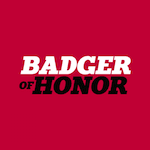 Want your voice heard? Join the Badger Of Honor team!
Write for us!
That's where Skowronek comes in. As Johnson's top target and Northwestern's leading receiver, he'll need to step up and serve as a reliable outlet for his quarterback, assuming Johnson can even get him the ball. The opportunity for a couple of big plays through the air could be there in the first half, as the Badgers will be without starters Eric Burrell and Reggie Pearson after they were ejected for targeting against Michigan.
4. Paddy Fischer – Linebacker
2019 stats: 22 tackles (12 solo), 1 TFL, 1 INT, 1 FF
A First Team All-Big Ten selection last season, Fischer is probably the best player on Northwestern's entire roster.
The Wildcat defense has actually been pretty respectable against the run so far this season (No. 52 nationally in rushing defense), and Fischer has played a key role in that success from his spot at linebacker. Even so, the Northwestern run defense will need its best performance of the season in order contain Jonathan Taylor and Wisconsin's power-run attack. Coming off an excellent nine-tackle performance against Michigan State last week, the Wildcats will be counting on Fischer to keep the momentum going against the Badgers and help prevent JT from breaking off too many explosive runs.
5. Joe Gaziano – Defensive End
2019 stats: 14 tackles (8 solo), 3.5 TFL, 2.5 sacks, 1 FF
Fischer is outstanding, but there's a case to be made for Gaziano as Northwestern's best player as well.
Like his teammate (should Fischer choose to leave school a year early), the senior defensive end should hear his name called in this spring's NFL draft. An All-Big Ten selection for the last two seasons, Gaziano currently leads the Wildcats in sacks after doing so in 2018 as well. Unsurprisingly, his main role against the Badgers will be to get to the quarterback.
Jack Coan has been playing with an enormous amount of confidence this season, and coming off of an excellent performance against Michigan, that confidence is at the highest point it's ever been at. Though Wisconsin will always rely heavily on the run, for the first time in years, the Badgers have a guy under center who can open up the passing game enough to legitimately keep defenses honest.
As mentioned, whenever Wisconsin and Northwestern square up, the game always seems to turn into a rock fight. The Wildcats' best chance at winning likely hinges on them making that the case again on Saturday, so Gaziano making life difficult for Coan in the pocket will be key. While Coan played great overall against the Wolverines, there were a couple of instances where he should have been picked off. The Wildcats' chances of an upset win would increase quite a bit if Gaziano could pressure him into turning the ball over once or twice.
All stats courtesy of Sports Reference