Wisconsin Football: Tale of the tape vs. Michigan State
The Wisconsin football team has a huge Big Ten crossover matchup with Michigan State coming up this weekend. Here is the tale of the tape for this Saturday's game.
Wisconsin football is coming off of a blowout victory over the Kent State Golden Flashes. It was the perfect game for them to bounce back after an ugly game against Northwestern. They again looked like the top-ten team they have all season. On Saturday, they will look to prove they belong in that position when the 4-2 Michigan State Spartans come to town.
Michigan State is coming off of a tough 34-10 loss to Ohio State. They have had kind of an up and down season. They beat Northwestern the week before Wisconsin but looked impressive with a 31-10 victory over the Wildcats. They also have wins over Tulane, Western Michigan, and Indiana. Their other loss came at the hands of Arizona State, in a low-scoring game, 10-7.
Michigan State looks to get back on track while this Wisconsin football team looks to keep the momentum going into a difficult part of their schedule, playing pretty tough opponents in three of their next four games.
Looking ahead to the matchup on Saturday, let's compare the coaching staff, quarterbacks, offenses, defenses and special teams of the two teams in this week's tale of the tape.
Coaches
Wisconsin
This is a different Paul Chryst than we are used to seeing, especially during the Michigan game. In the past, specifically last season, Chryst was generally more conservative with his playcalling, including punting in the opponents' territory constantly.
This year is different though, Chryst has been way more aggressive going for it on 4th down this season than last. This year, Wisconsin is averaging 1.4 4th down conversions per game, good for 30th in the NCAA, compared to just 0.4 conversions per game last season. He's been calling the right plays, too: they've converted every one of their 4th down plays, with that 100% success rate obviously leading the nation.  Of course, it helps to have Jonathan Taylor in your backfield. I think he is the big reason why Chryst is so comfortable going for it on 4th down. Chryst has this offense rolling right now, averaging 43.4 points per game, which is 7th-best in the country.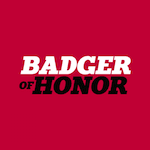 Want your voice heard? Join the Badger Of Honor team!
Write for us!
Jim Leonhard has this defense just suffocating opponents. They are among league leaders in most of the defensive statistical categories. Leonhard has also been really good about putting players in positions to succeed. There have been a decent amount of injuries on this defense that Leonhard has had to fill. Bryson Williams was out for a few weeks, safety Scott Nelson is out for the year and then Reggie Pearson and Eric Burrell both got ejected for targeting in the second half of the Michigan game, leaving them with more backups to start the Northwestern game, who still played very well.
This is a solid coaching staff that I would argue ranks among the best in the NCAA.
Michigan State
Michigan State is led by Mark Dantonio. Dantonio has been the head coach of the Spartans since 2007. In that time, he has led the Spartans to a 111-53 record, including a 5-6 record in bowl games. Last season, he led the Spartans to a 7-6 record, earning a bid to the Redbox Bowl, losing to Oregon, 7-6.
This season, the Spartans started ranked 22nd in the country but fell out of the rankings after losing to Arizona State. Last week, they snuck back in at number 25 before losing to Ohio State, and are now unranked again.
Dantonio has had a good track record at Michigan State, but with the lack of recent success, some might be wondering whether or not his seat is getting a little warm.
At offensive coordinator is Brad Salem. This is his first year in the role of offensive coordinator. While there, he's led a Spartans offense that is right in the middle of the pack in scoring and total offense.
The defense is usually the strength of Michigan State, and that isn't any different this year. Dantonio is a defensive-minded coach. The defensive coordinator is Mike Tressel. He has been at Michigan State since Dantonio took over and has been a big part of their dominant defensive teams in the past.
These are two of the most respected and highly-thought of coaching staffs in the Big Ten. I think With the balance Wisconsin has between offensive coaches and defensive coaches, the Wisconsin football coaching staff has the advantage over the defensive-heavy coaching staff at Michigan State.
Advantage: Wisconsin